What is a fork?
It is early days in evolutionary terms for cryptocurrency. Bitcoin has not been around even a decade. Ethereum has only been here for a few years. The respective economies of these and other cryptocurrencies have been growing at triple digit percentage rates.
A given blockchain can be thought of as a continuing line of a particular species. A new blockchain, e.g. Ethereum with new attributes, is a new species of cryptocurrency. A fork in a blockchain, such as the recent Bitcoin Cash, is also a new species, but perhaps one can say that it belongs to the same genus.
Mayr's concept of species is that of representatives of the same breeding population. They are in some sense on the same continual chain.
A fork is an evolutionary branch in response to environmental pressure. The pressure arises due to the developing needs of the ecosystem for cryptocurrencies overall and for individual cryptocurrencies.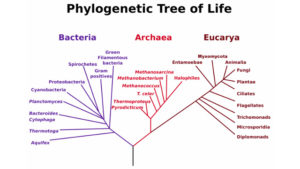 Pressure
The pressure that gives rise to evolution in the cryptocurrency ecosystem arises from the need to scale cryptocurrency to higher transaction rates and to more diverse use cases. For example, there is the very general use case of smart contracts, that led to the creation of Ethereum.
How new currencies are created or are forked results from the technological requirements and how those are interpreted and implemented by particular members of the development community. This is a political arena since miners, developers, exchanges, merchants, and other groups have different interests.
We have just had the Bitcoin Cash fork a few months ago and the Bitcoin Gold fork more recently. The Segwit2x fork scheduled for November was postponed indefinitely due to lack of support.
It is difficult to determine which fork or species will be the most successful in the long run; but the original or main branch can have an advantage. Overall forks can be seen as strengthening the ecosystem as a whole since total value seems to rise after forks. After the Bitcoin Cash (BCH) fork the original Bitcoin (BTC) increased in value, and one could also collect the BCH on a one per one BTC held basis as a dividend.
More generally, this has been borne out by the continually increasing market capitalization of the set of cryptocurrencies, currently having reached around $300 billion (more than Buffet, Bezos, and Gates rolled together).
For investors in cryptocurrency one can view forks as special dividends. Those who held Bitcoin through the Bitcoin Cash fork received a dividend of several hundred dollars per BTC. Sometimes numbered prints or copies are valuable as well.
Above is not our view, but that of @BitcoinWrld
What you do (hold, sell all, sell half) with your dividends is up to you and your views on individual forks; we make no recommendations here. But the dividends are there to receive, along with possible capital appreciation as the cryptocurrency economy continues to grow rapidly.
Stephen Perrenod has lived and worked in Asia, the US, and Europe and possesses business experience across all major geographies in the Asia-Pacific region. He specializes in corporate strategy for market expansion, and cryptocurrency/blockchain on a deep foundation of high performance computing (HPC), cloud computing and big data. He is a prolific blogger and author of a book on cosmology.