Inspired by the TOP500 list, biannual list of the most powerful cryptocurrency mining pools tracks compute power and economic value
Press Release
Menlo Park, Calif. – June 30, 2021 – PRLog — OrionX Research today released the sixth edition of its CryptoSuper500 list. The list recognizes cryptocurrency mining as a new form of supercomputing and tracks the top mining pools. Cryptocurrency technologies include blockchains, consensus algorithms, digital wallets, in addition to utility and security tokens. Cryptocurrency mining is a specialized domain of decentralized high performance computing (HPC). This dynamic, highly competitive, and rapidly growing industry has reached nearly $40 billion in annual economic value.
As of May 29th 2021, almost all the produced value is in three coins: Ethereum's ETH coin, Bitcoin, and Dogecoin. While Bitcoin continues to represent the top spot in mining power, ETH produced the most mining revenue, aided by emerging applications that offer Decentralized Finance (DeFi) or manage Non-Fungible Tokens (NFTs).
"We present an overview of market forces and details of the top 45 pools for Ethereum, Bitcoin, and Dogecoin," said Dr. Stephen Perrenod, OrionX Partner and Analyst and the developer of the CryptoSuper500. "Trends to watch include advances in ASIC-based and GPU-based mining rigs, the end of Ethereum mining, the trend of increasing electricity usage offset by increases in the green fraction of mining, and bans in certain countries that cause hash rate to move elsewhere."
Cryptocurrency Supercomputing refers to large-scale cryptocurrency mining operations which are typically powered by accelerator technologies such as GPUs, FPGAs, or custom ASICs. Bitcoin is the most notable of such currencies. Cryptocurrency mining via Proof of Work is important since it represents the most effective consensus algorithm to maximize security in a decentralized manner.
The full list with additional explanation is available at OrionX.net/research.
About OrionX
OrionX is a Silicon Valley consulting firm offering Technology Research, Market Execution, and Customer Engagement services to high tech companies. More than 70 financial institutions and technology leaders in virtually every technology segment have trusted OrionX to provide advice, help set new break-away strategies, ignite brands, and grow market share. Visit us at OrionX.net.
* Note: This effort is an analysis of the technologies and trends surrounding blockchain and cryptocurrencies. It is not, and must not be considered as, financial, investment, or legal advice.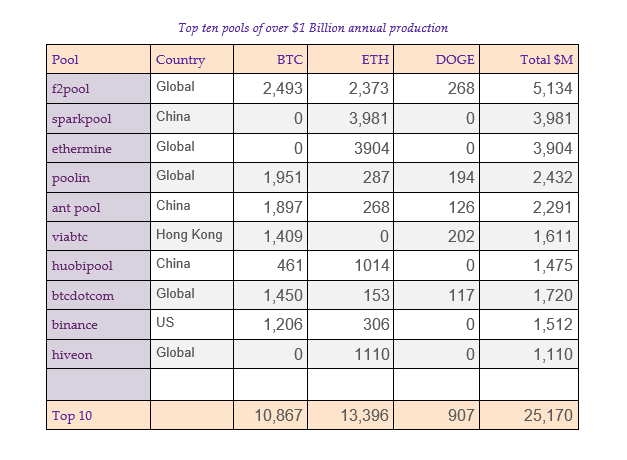 Stephen Perrenod has lived and worked in Asia, the US, and Europe and possesses business experience across all major geographies in the Asia-Pacific region. He specializes in corporate strategy for market expansion, and cryptocurrency/blockchain on a deep foundation of high performance computing (HPC), cloud computing and big data. He is a prolific blogger and author of a book on cosmology.