The IT industry is arguably going through its biggest transformation since the introduction of the IBM PC in the early 1980s, and a cloud service based approach is the likely destination for most enterprise workloads. On August 26th and 27th  Mirantis hosted the "second annual" OpenStack Silicon Valley event at the Computer History Museum in Mountain View to a standing room only audience.
Setting the scene for the conference, Alex Freedland, Co-Founder and President of Mirantis, pointed out the market momentum gained by OpenStack in five short years, displacing other potential cloud platforms and propelling it very firmly to being one of just five viable cloud computing platforms for enterprise deployment: Amazon Web Services, Google Cloud Platform, Microsoft Azure, VMware, and the OpenStack Community and Partner Ecosystem.
On the surface this might seem to be a rather bold claim for such a young open source technology offering as OpenStack, but based on my end-user studies at 451 Research prior to joining OrionX, I find the claim entirely credible. It is important to remember that despite all of the hype surrounding cloud computing, most enterprises are still in the early stages of cloud adoption and that it is a complex transition. Although the technology platforms to build a cloud are critical to success, there are many more significant factors that will contribute to success. First and foremost, the shift to a cloud-based approach to delivering IT services is a huge cultural transition and with such transitions also come substantial business risk. This was one of the key findings of my own research, and also the main theme of the talk by James Staten, Chief Strategist of the Cloud and Enterprise division at Microsoft and until recently Vice President & Principal Analyst for cloud computing at Forrester Research.
Another factor in a successful transition is choosing the right partners for technology and business solutions. It is here that OpenStack gains enormous credibility, not so much from the current level of maturity of the OpenStack technology platform but from the massive amount of investment in both money and developers that is being poured into the effort to make OpenStack successful, something that simply cannot be matched by any single company on the planet today. There is still much to be done to turn OpenStack into a true enterprise-grade, production-ready cloud platform but it is also clear that OpenStack is funded for success, which is one very important consideration for any enterprise making a significant bet on the foundation for its future IT services.
There are too many proof points to mention that underpin the level of activity and initiatives supporting the momentum behind OpenStack, but a few recent and noteworthy ones are:
On Monday August 24th, Mirantis benefited from a $100 million investment led by Intel Capital as part of Intel's Cloud for All initiative
Also as part of the Cloud for All initiative, on July 23rd Rackspace and Intel announced the OpenStack Innovation Center, designed to accelerate the testing and deployment of scale-out OpenStack environments.
Even the IRS likes OpenStack! On August 26th, after a lengthy process, including an initial denial and an appeal, the OpenStack Foundation was granted 501c6 tax exempt status, a clear recognition of the positive impact that the Foundation is having on the cloud computing industry.
So, are we all off to see the wizard, the wonderful wizard of OS [OpenStack]?
Possibly, but not quite so fast! There are still lions and tigers and bears, Oh my! There is still much work to do to bring OpenStack, and indeed all the other credible cloud platforms up to production enterprise deployment standards, and this will take time even if the money and the will is there, which it appears to be for OpenStack. Here are just a few of the initiatives outlined at the OpenStack Silicon Valley summit that point to what is in the pipeline to make OpenStack more enterprise ready:
Core Improvements: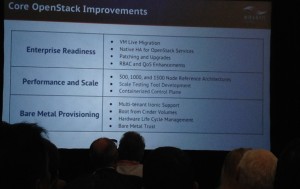 Strategic Investments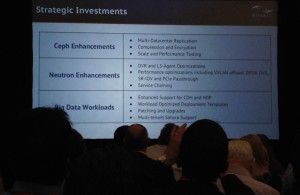 The long and winding road
Perhaps the biggest issue of all to be addressed is the current scarcity of OpenStack expertise and developers. They seem to be worth more than their weight in gold or Bitcoins, and they also seem to know it! These are some of the driving forces behind initiatives such as Intel's Cloud for All, and why a company like Mirantis is gaining recognition for its expertise, and investment that enhances its ability to influence the future of cloud computing.
The journey to "the cloud" is a long and twisty one, and there will be more than one destination, but for now OpenStack seems likely to be one of the five most viable destinations. From here it appears to be more real than it does to be a mirage.
Peter ffoulkes, Partner OrionX
Peter is an expert in Cloud Computing, Big Data, and HPC markets, technology trends, and customer requirements which he blends to craft growth strategies and assess opportunities.