SR016: Behavioral Analytics and IoT Security
Security threats come from multiple directions, external and internal. Over the years, several approaches have been devised to protect data and/or to avoid service disruptions. In general, OrionX formulates three dimensions of cybersecurity:
Regulate who gets in: Network Access Control
Regulate what gets in: Malware Detection & Deep Packet Inspection
Regulate behavior: Behavioral Analytics & Wide Packet Inspection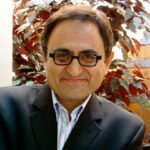 Shahin focuses on strategy, emerging technologies, positioning, and has been Interim CMO for several companies as part of OrionX engagements.