SR016: Behavioral Analytics and IoT Security
Security threats come from multiple directions, external and internal. Over the years, several approaches have been devised to protect data and/or to avoid service disruptions. In general, OrionX formulates three dimensions of cybersecurity:
Regulate who gets in: Network Access Control
Regulate what gets in: Malware Detection & Deep Packet Inspection
Regulate behavior: Behavioral Analytics & Wide Packet Inspection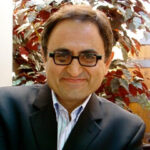 Shahin is a technology analyst and an active CxO, board member, and advisor. He serves on the board of directors of Wizmo (SaaS) and Massively Parallel Technologies (code modernization) and is an advisor to CollabWorks (future of work). He is co-host of the popular RadioFreeHPC ("Car Talk" of supercomputing), OrionX Download, and Afero IoT podcasts.