Sidebar as a portfolio
This free service provides occasional updates from the OrionX team. You will receive an email asking you to confirm your subscription.

Latest Tweets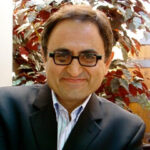 Shahin is a technology analyst and an active CxO, board member, and advisor. He serves on the board of directors of Wizmo (SaaS) and Massively Parallel Technologies (code modernization) and is an advisor to CollabWorks (future of work). He is co-host of the popular RadioFreeHPC ("Car Talk" of supercomputing), OrionX Download, and Afero IoT podcasts.