Join us as we discuss trends, protocols, challenges, what works, and how to launch and scale in wearables and enterprise IoT.
6-8 pm, Feb 21, 2020
Hacker Dojo, Santa Clara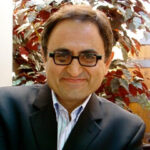 Shahin is a technology analyst and an active CxO, board member, and advisor. He serves on the board of directors of Wizmo (SaaS) and Massively Parallel Technologies (code modernization) and is an advisor to CollabWorks (future of work). He is co-host of the popular RadioFreeHPC ("Car Talk" of supercomputing), OrionX Download, and Afero IoT podcasts.